This feature lets you switch organizations in your workspace.
How it works:
If you are part of multiple organizations, you can switch between them. The organizations that you are a part of show up on the left side, in a thin sidebar in Channel. You can directly switch by clicking on any workspace icon showing there or click the three-dot icon for switching to some other workspace. It will redirect you to the Select workspace page.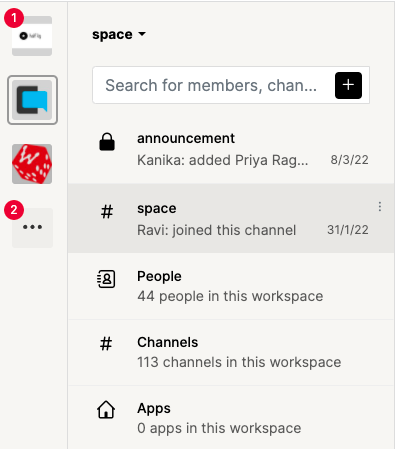 Purpose:
Switching workspaces helps you to quickly move to and work in different workspaces simultaneously.
Benefit:
You can switch workspaces and see channels and chats related to that workspace, thus helping in workspace management. In case you are a part of multiple organizations and are working on a particular one but want to check with another organization and its conversations and channels, you can do that with this feature.
Did it help you?
How can we make it better?