How to Open/Create a new channel
This feature lets you open/create a new channel.
How it works:
1. Click on the New Channel button at the bottom of the left sidebar.

A dialogue box will appear.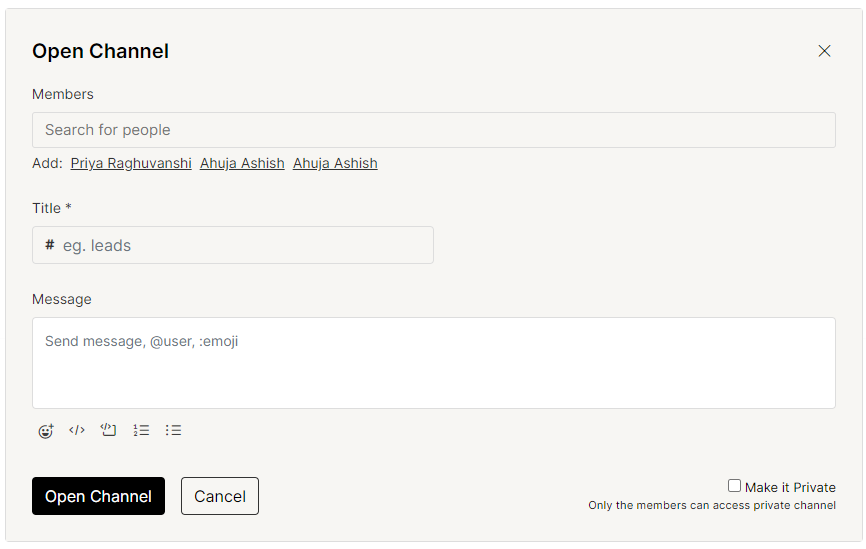 2. Add people or groups to that channel by searching their names. It will give you suggestions based on the recent people you have interacted with or you can add members by searching the name.
3. Fill in the name you wish to give to the new channel. By default, a channel is made public. Use the toggle to make it private.

Public channel- All the members of the workspace will be able to find it in the search results or in the Channels section and can see its messages and join it.
Private channel- Only the members added to the channel will be able to find it and access it.
You can also add a message to let everyone know the purpose of creating a channel or to initiate a conversation.
Click on the Open Channel button. A channel with that name will be created.
Other features used in a channel-
Purpose:
Creating a new channel gives you a dedicated space for a specific purpose and conversation. A channel can be opened to discuss a certain topic and then be closed after the discussion is over.
Benefit:
Channels are organized and easy to find and thus all the information related to something can be easily found. Also communicating in a channel keeps all the concerned people in the loop.
Refer this video to see more in detail - https://youtu.be/Er1MZNdI4w8
Did it help you?
How can we make it better?