This feature let you organize your sidebar
How it works
You can organize your sidebar, all you need to do is to click on the toggle icon near the search bar. Select the grouping option for customized grouping in your sidebar.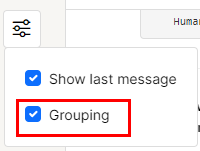 Once you do, you will be able to see four different sections. i.e. - Pinned, today, yesterday, previous, in which your chats would be organized.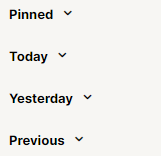 You can also create custom sections. All you need to do is to right-click on any section or select the three dots. There you will see an option to Create new section.

Select it, and a new modal will appear. Write the name of the section and click on the Add button. The section will be added in the sidebar.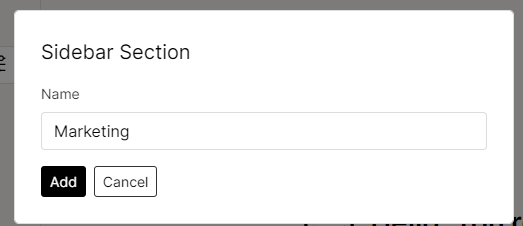 Now you can move any conversation into the section. Just right-click on the chat you wish to move or click on the three dots appearing on hovering on it.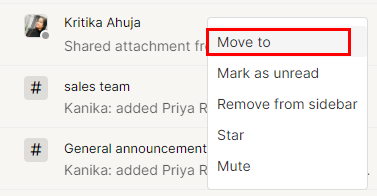 Select the Move option. A new modal will appear. Select the section name where you want to move and click on the Move button.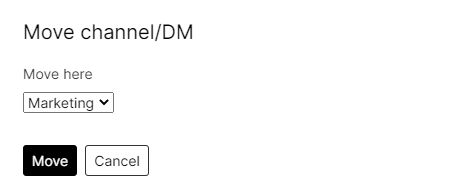 The chat will be moved to that section. These sections can be expanded or collapsed as per the view. You can also create a new channel inside a section.


You can also create a new channel by right-clicking on the section which you have created. Just select the option, Create a new channel and the modal will be open where you can enter the details and open a channel.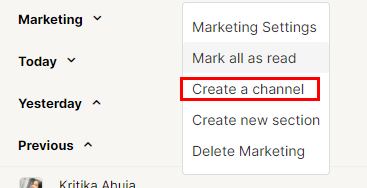 Once done the channel will be visible under that section.


Refer to this video to see more in detail
Purpose and benefit
Grouping enables a richer sidebar view to help team members to organize conversations.
Did it help you?
How can we make it better?